CD #1
with Ron Thompson on Guitar and Danny Parker on Bass. This is Scott's first CD featuring Jazz Standards from the "Great American Songbook".  It features timeless songs from songwriters such as George Gershwin, Duke Ellington, Dave Brubeck and Benny Goodman. It also includes two original songs.
 CD #2
Scott Robertson – Swing Patrol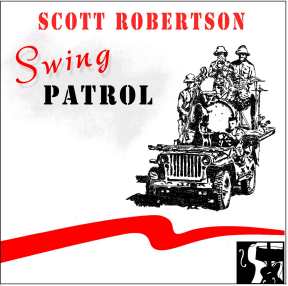 This CD has Scott on drums and Ron Thompson again on guitar. Danny Parker & Brent Gubbels share duties on Bass. Also featured is Evan Arntzen on saxophone and clarinet and Bria Skonberg on vocals and trumpet.
The namesake, Swing Patrol, was a Canadian Auxiliary Services Orchestra during WW II. Scott dedicates this CD to his Dad, Morris Robertson, who was one of their overseas truck drivers. Scott grew up listening to his Dad's stories of the fabulous musicians along with his record collection of the Swing era.
REVIEWS…
Dennis Mersmann at MuzikReviews.com
gives it four stars out of five: Swing Patrol is an exceptional album." …"Each track deserves to be listened to once for every musician playing to fully appreciate what each is doing."…" There is not one song here that isn't worth listening to…"
Bobby Hales in UPBeat:
For performers still in their 20's (Bria Skonberg and Evan Arntzen), their maturity in this idiom is amazing."…"A thank you to Scott for reminding me how good brushes sound on ballads."…" West Coast Street Beat shows off some impressive snare drum work by Scott."…" There is not a bad track on the whole CD".
Jeff Parker at Swingmusic.net:
The guitar work is first rate and the work with both brushes and sticks by leader Scott Robertson is really superb."…" Exceptional work!"
Eddie Graf, Acclaimed Canadian big band composer, arranger and member of the original 1945 Swing Patrol:
"Wonderful! What talent in everyone in the group!"
John York – Western Swing Music Society
"…you're sure to enjoy this CD. It's an excellent example of what can happen when a group of fine musicians get together and really swing out! I highly recommend this album"…"Both CD's are a must for your library."
Charleston Hepston, March 16, 2010 TC Swing.com:
"…This is the kind of music you are going to hear in a fine jazz club…. Track one comes poppin' right at you with Lester Leaps In. A faster tempo at 230 bpms that kind of welcomes you in to the sound and technical abilities of the band…I really liked the guitar work throughout the CD. It is solid and pleasant with a relaxed but swingin' sound. The drums keep time and fill in quiet spots nicely. The drums are never overbearing but do get to showcase (of course, the bandleader is the drummer!)"