Contact Info
via email….or phone: 604-916-0558. Based in Metro Vancouver, Scott's Bands are available anywhere in British Columbia.
Resume
As a respected musician in BC, Scott not only leads his own bands, he is an active drummer, drum teacher and clinician.
BAND LEADER
Scott fronts his own "Scott Robertson Trio" and "Swing Patrol" with many variations, playing hotel conventions, corporate and special events, dances, banquets, weddings, et cetera. He has released the CDs – Swing Patrol and no expiry date.
PERFORMER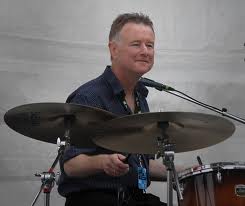 Aside from fronting his own bands, Scott plays regularly for the White Rock Traditional Jazz Society and was the regular drummer for the 17-piece Preservation of Swing Orchestra for 15 years until its retirement. In the Vancouver area, Scott also does or has performed with Gabriel Hasselbach, Dal Richards, Tuxedo Junction, Ray Carol's Platters Show, Cascadia Jazz Band, Rice Honeywell, Simon Stribling's All Stars, Ron Thompson, many educational school concerts/ clinics with the Don Reid Time & Rhythm Percussion Ensemble, many casual dates with miscellaneous Rock, Country and Blues and Jazz groups.
DRUM INSTRUCTOR
As a Drum Instructor since 1975, Scott has trained all levels of drummers from various musical backgrounds. Beginners get a strong foundation in reading (for both snare drum and drum set), develop effective practice habits and learn a variety of musical styles as applied to the music business. Advanced students come to improve their technical skills and to broaden their musical scope. High school students are encouraged to bring band music to lessons for extra help. Scott is currently teaching privately throughout the Lower Mainland
From September 2000 until June 2009, Scott worked as Head Drum Instructor for Tom Lee Music. Accomplishments here include establishing a drum lesson curriculum for all teachers. Duties include: recruit new teachers, evaluate applicants for position of drum teacher , monitor quality standards, & maintain a consistent educational mandate.
Scott has also taught a Drum Camp – beginner group lessons for ages 8 – 16. as a Langley Parks n Recreation program.
SEMINAR LEADER
Scott has conducted drum workshops for schools in Vancouver, Surrey, Langley & Campbell River, for teachers at the BC Music Educators Conference and for the Summer Pop Youth Orchestra. He regularly conducts drum corps workshops for pipe bands in Canada & the USA including: BC, Alberta, Yukon, Nova Scotia, New Brunswick, Iowa, Colorado, Alaska, Oregon, Washington, and Utah.
DRUM CORPS LEADER
Scott is curr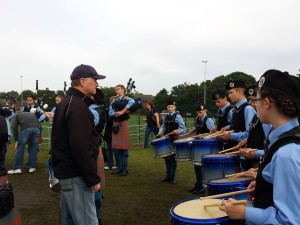 ently instructing youth side drummers of the RMM Pipe Band. He has instructed and led pipe band drum corps including organizing and training bands for recording and competing in North America and Britain. Drum Corps taught include: Triumph Street Pipe Band, Vancouver Ladies Pipe Band (1980 World Champions), Delta Police Pipe Band, Seaforth Highlanders. Drum Corps that he has played in include TSPB (1979 World Champions) 1974 – 1991 and the Abbotsford Police Pipe Band.
DRUM CORPS JUDGE
Scott is an official Drumming and Ensemble (A) Judge of the BC Pipers Association. He frequently judges at highland games in Western Canada and the Pacific Northwest. His judging experience includes adjudicating solo snare & tenor completions as well as drum corps, from Grade 5 through Professional classes
MARTIAL ARTS EXPERIENCE
In May 2014, Scott was certified as a 5th Dan by the Kukkiwon (World Taekwondo Headquarters). In February 2008, Scott tested and was awarded a 1st degree black belt in Hapkido from the American Hapkido Heuk Choo Kwan Association with Grand Master Suggs presiding. Scott also has studied Kung Fu & Kickboxing under Sifu Bruce Currie for two years. Scott currently trains at Pacific Coast Taekwondo under Grand Master Daniel Witt and participates as an instructor there as well. Scott has also taught beginner Taekwondo at various Langley Recreation Centers.
EDUCATION
Scott's first drum teacher was Don Bellamy, followed by pipe band drummers Jack Gallaher and Willie McErlean. His first lessons on drum set were with Micky Earnshaw before going to Vancouver Community College to study jazz and commercial music.
Studied Privately with Ken Moore, Al Wiertz, Jim Chapin(NYC), Dom Famularo(NYC)