Pipers & Pipe Bands
CELEBRATE IN STYLE TO THE SOUND OF THE GREAT HIGHLAND BAGPIPES!
Scott Robertson Bands provide a service specializing in bagpipers for special events. Solo pipers or small "micro bands"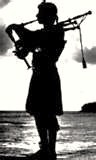 with pipes and drums bring a spirit of celebration to your event. Pipers perform in traditional Scottish kilts. Pipers can be hired for all social gatherings, including:
• Corporate events – Have your guests piped-in to the event in style
• VIPs – Welcome important visitors to company premises
• Grand openings – Store openings or special promotions.
• Parades and Civic Events – Christmas, St. Patrick's Day, Canada Day, BC Day, Multicultural Festivals.
• Birthdays and Anniversaries
• Weddings – A piper will provide a regal atmosphere to the day.
• For guests arriving before the ceremony.
• For the arrival of the Bride and Bridal Party.
• To welcome guests into the Official Reception.
• Escorting the Head Table into the Official Reception
• Escorting the Bride and Groom to the Head Table.